'Conversational Marketing' is used to describe a feedback-based approach to marketing that companies use to stimulate engagement, develop customer loyalty, grow customer base and ultimately grow sales.
'Conversational Marketing' is used to describe a feedback-based approach to marketing that companies use to stimulate engagement, develop customer loyalty, grow customer base and ultimately grow sales. 
Conversational marketing is based on the common sense idea to listen to the needs of your client and potential customers.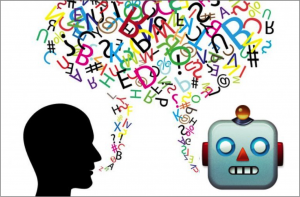 This approach includes a broad spectrum of conversational marketing practices:
Email advertising
Live customer support
Customer loyalty programs
Customer success
chatbots
How do chatbots fit in?
Without doubt the most talked-about tool in the conversational marketing repertoire are chatbots. In the digital age and with the emergence of social media, well-implemented chatbots offer the possibility for real-time individualized interaction with customers.
So how does this work? Advanced AI-powered chatbots, or virtual assistants, equipped with natural language processing, can mimic human interaction with customers. Literally to chat with them via speech or text medium.
These bots are accessible via company sites or social media platforms such as Facebook or Twitter. They aim to provide a medium without friction for direct communication with customers, where questions can be answered immediately. In addition, chatbots with machine learning capabilities can also adjust the discussion to take into account registered knowledge of the individual needs of the customer and then adjust the discussion to take into account their preferences.
In other words, chatbots are the ideal tool for every conversational marketing strategy. They are efficient, digitally available and have the ability to process customer behavior and to create a personal experience.
Interested in the use of bots? Let me help you get started. Here are my 2 favorite ways to include bots in every marketing strategy.
Communicate with visitors of the website
This is one of the most useful and popular bot actions. It takes a huge amount of work off your hands and it has a lot of benefits.
When visitors visit your site, they want answers to your products or services. If they cannot find those answers, they may never come back.
Helping your potential customers is a priority, but that can be difficult if you have a small customer support or a sales team.
That is where bots can enter and save the day.
You can set up a bot to emulate live chat and talk to your customers.
It may come as a surprise that customers really appreciate chatbots.
Econsultancy discovered that 57% of customers prefer to chat live.
In one survey conducted by Ubisend, almost half of the respondents preferred to send messages to e-mail or telephone.
Bots offer you a super-simple way to create a messaging environment without the need for a dedicated team of customer support reps.
Make sure you sound human when you set up your chatbot.
Write questions and messages in your own voice and make sure it matches your branding.
If the chatbot sounds too stiff, people are less likely to work with it.
Add a name and / or profile photo for an extra touch. Most chatbot providers allow this kind of customization.
It is good to have the chatbot profile set to a real person in your company.
Even if the client talks to someone else, they still react positively to seeing a real person at work (even if that is not the case).
Qualify your leads
Whether you want to use Instagram to position your personal brand, or are looking for new customers for your company. Today, social media marketing is an important part of a marketing strategy, and it's hard to imagine a life without it. We are happy to help you turn your visitors into real fans!
That's right. These bots can even qualify your leads for you.
Lead management can often give you a headache. Leads sometimes require a lot of care and although the result is worth it, it is also pretty tiring.
So why not do it for you?
You can program question sequences to find out where a customer is in the sales funnel.
This works surprisingly well, and often your customers will not even know they are talking to a bot.
The best way to properly qualify your leads is to use live chat (with a real person) next to the bot.
The bot does the mundane work of bringing in the lead and finding the right product or the right service for them.
Then you or one of your sales reps can come in and close the deal.
It is quite simple and works seamlessly with your existing sales strategies.
We can create Facebook Messenger bots and Website bots.
Do you want us to create a Facebook Messenger Bot for your business?
Read our Facebook Messenger Bot Services page for more information.